Advantages of Choosing a Reliable Used Clothing Supplier
Advantages of Choosing a Reliable Used Clothing Supplier.Are you planning to start used clothing wholesale? If so, be prepared before you make a jump start. A slew of factors goes into the success of this venture. The used clothes market is highly profitable. You could make big money selling your items in Nigeria, Kenya, and other African nations. People in these countries prefer used clothing from overseas markets to locally produced new clothes. However, they're more particular about their requirements. If you miss out on this point, you'll lose a billion-dollar industry and end up with a failed venture. So, how to avoid such a scene? Turning to a reliable used clothing supplier such as Hissen Global can resolve your worries.
Why choose a reputed supplier for secondhand clothing?
When it comes to buying used clothing, many wholesalers make a hasty mistake. They check the very first supplier that they come across. This is more so in the case of newbie wholesalers and importers. Unfortunately, a majority of these businesses witness massive failures. No prudent wholesaler would ever want to face such a scene. If you wish to start a used clothing venture, contact a trusted supplier. Here are the perks of choosing a dependable supplier.
Quality products
Many novice businesses equate used clothing with substandard clothing. However, that's far from the fact. The reality is secondhand clothing market thrives on quality. If you provide poor-quality clothes, you may have to close your business within no time. Are you ready for such an episode? Surely, no!
Getting in touch with a reliable supplier resolves this issue. Reputed vendors pick their products from the posh areas of China. They check the quality of the raw materials upside down. Any problems with the items are dealt with before offering them for sale. So, you can be sure that the products you get are free from holes, stains, color fading, and other issues. In a nutshell, you enjoy the best quality items, nothing less.
Market trends
Although you invest your money in secondhand clothing, you've to stay abreast of time. You should be aware of the latest happenings in the market. Not just that, you need to find items that match the current trends. If you lag here, you won't win customers. Many used clothing vendors don't bother about trends. They're only interested in dumping their items.
You've to stay happy with whatever products you get. However, the said consignment may or may not align with the needs of buyers. So, your money stays blocked in the consignment. A reputable supplier offers trendy used clothing in China. So, you don't have to worry about fund blocking and related chores. All you've to do is concentrate on your marketing efforts to make higher sales.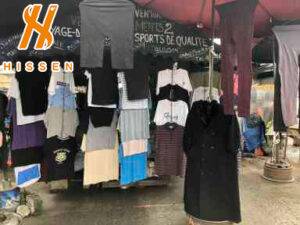 Variety
The main reason for the failure of many ventures in used clothing wholesale is the lack of variety. A majority of suppliers offer the same collection. Since any imported container includes hundreds of bales of clothing, you need a wider range. If you fail to do so, your retailers and semi-wholesalers will move on to other wholesalers.
Such a situation can impact your current and future potentials. Contacting a trusted supplier like Hissen Global avoids this type of scene. The vendor offers new varieties all the time. Also, your consignment will come with a varying range. So, you get to please your buyers persistently.
Quick resolutions
Global trade involves a slew of issues. You've to be ready with solutions to ensure the smooth functioning of your venue. Any mistakes on your part could lead to huge losses. You've to comply with legal agreements. At the same time, you need to watch out for problems that may pop up in due course of time.
For instance, a misdelivery of used clothes can impact your trade. However, a reliable supplier can resolve such issues quickly. Whether it's misdelivery or goods damaged in transit, a trusted vendor can take care of the problems on the go. So, you don't have to worry about such problems or losses.
Higher ROI
While the cost of used clothing in China is low, you need to invest heavily in consignments. Your funds get locked due to various reasons. A regular importer or wholesaler has to expend a huge sum in the form of dead investment on stocks. That can hurt the overall profitability and return on investment.
A popularly used clothing supplier can enhance your ROI. How? Firstly, you don't have to invest too much as a dead investment. The supplier will provide the latest products. Secondly, you've your hands on a wide collection. So, your consignment is likely to get picked up by semi-wholesalers and retailers. In the end, your ROI elevates with higher profitability and low investment.
Timely delivery
In business, time means money. If you waste/loses time, you could sustain heavy losses. The situation could be worse in the case of imported products. People living in Nigeria and Congo are more particular about timely delivery. A single blunder can return your consignment. Also, the retailers in the region may not place new orders due to delays.
Reaching out to a renowned used clothes vendor stands as a better option. Such a supplier never misses delivery dates. You could even get the delivery before the designated date. So, you can easily outshine your contenders with timely supplies to retailers.
Cost-effective
Today, the export business has become incredibly competitive. You've to sell high-quality items at the most optimum price to stay afloat. If your price is higher, no one will pick your products. This applies to secondhand clothing too. So, how can you tackle the scene?
Calling a trusted supplier turns out to be an ideal solution. Reliable vendors offer their products at budget prices. You may even seek discounts for bulk orders. That lets you price your products more competitively and enjoy an edge over others.
Finishing thoughts
Used clothing wholesale can be extremely profitable in Kenya, Zambia, and other African nations. However, your profits can quickly manifest into losses, thanks to issues involved in global trade. It would be best if you had a reliable used clothing supplier such as Hissen Global to address those problems. With a reputed vendor, you can easily scale your business amid uncertain times and intense competition.