2nd Hand Men Pants Men Second Hand Clothing Bales in China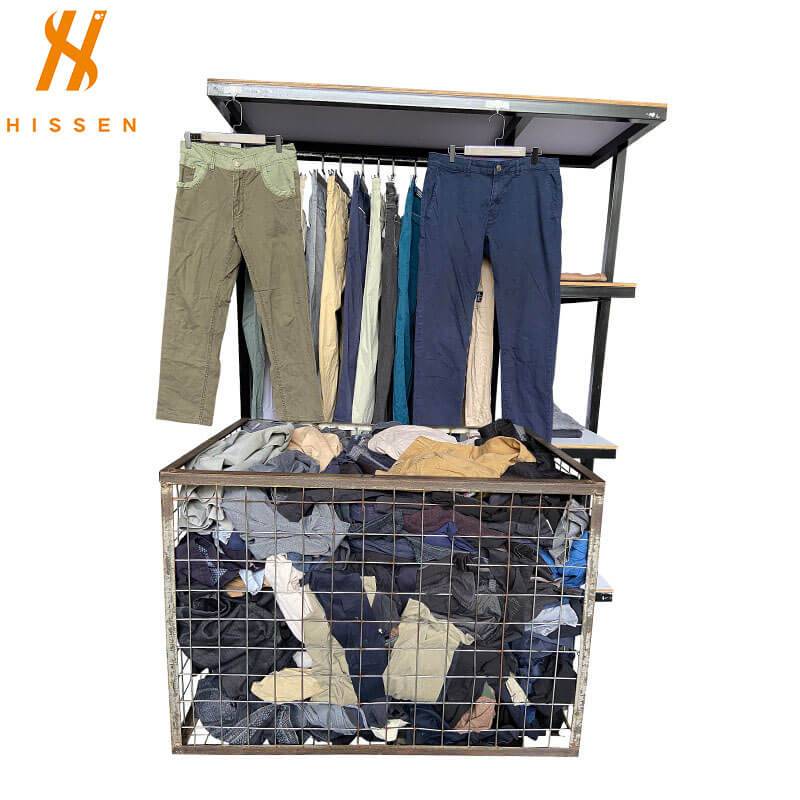 Men second hand clothing.Hissen is a apparel clothing wholesale supplier and used bales clothing company.We take pride in being one of the best wholesale second hand clothing suppliers.
📙For each working line,We also have 2 quality inspectors with 5 years of working experience.That is reason why our products are 100% A grade quality: No stain, no torn, no pilling, no hole, no over-used or no fade for you.
📙Packing: We can pack various packages of 100kg, 80kg, 50kg, 45kg, according to your different needs,mixed sizes.
📙Market: Egypt, Sudan, Libya, Tunisia, Algeria, Morocco, Azores, Madeira, Lesotho, etc.
Brand:
 

ZAGUMI

HISSEN 

SPACE 

Customized for you

Product Name: 

2nd Hand Men Pants

Advantage: 

1.Popular and light.

2.Fashionable.

Raw Material:
 

First-tier cities in china

Packaging:

1: 100kg/bale,80kg/bale,for West Africa and Asia countries 

2:  45kg/bale,55kg/bale for East/South/Middle Africa coutries

Shipment:

PIL/ MSK 21 days rent-free period

Payment:

TT / LC / PayPal 30% deposit, 70% before loading

Main Market:

Africa Asia Mideast

Keywords:

Men Second Hand Clothing

Ladies:

Party Dress, Jean/Cotton Pants, Worsted Coat Silk/Cotton Blouse Silk/Cotton/Jeans Skirt,Legging,S/L-Sleeved T-shirt, Brassiere, Silk Scarf, Jacket, Cardigan Sweater, Silk/Cotton Dress, Night Dress, Etc.

Men:

Short Pants,  Jacket,Short/Long-Sleeved T-shirt,Suit Pants, Jean/Cotton Pants, Suits Etc.

 Children:

Summer/Winter Wear , School Uniform , Pants Etc.

100%QC:

A Grade 98%

Time:

24/7* quick reply, fast delivery
✉Send us an inquiry, right now!