Second Hand Ladies Silk Dress Second Hand Clothing Company in Germany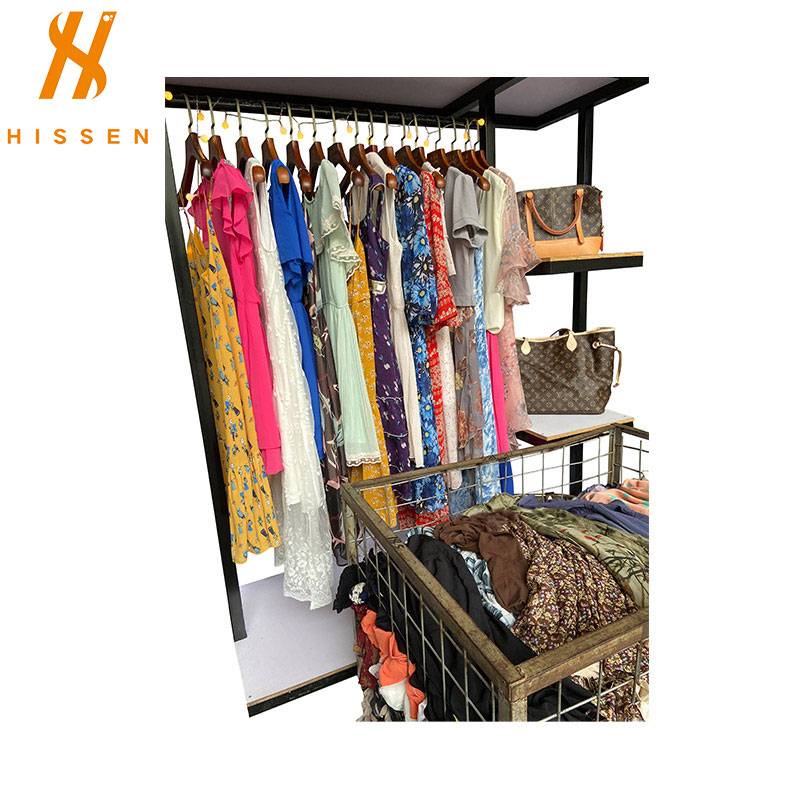 Second Hand Clothing Company in Germany. Hissen is a wholesale second hand clothing supplier and used clothes company.
About our used Ladies Silk Dress:
1. Types. A-line dresses, open back dresses, princess dresses, halter dresses, lace dresses and more. All of these silky women's dresses look classy! 
2. Key Fabrics. This section focuses on a variety of different materials for women's wear such as Tencel, chemical chiffon, natural silk chiffon and organza, all of which are perfect for everyday wear or the occasional occasion. Wearing them will not only be comfortable but will also boost your confidence.
3. Here's how this product will make you feel Cool, lightweight, stylish, creative and high quality.
Brand:
 

ZAGUMI

HISSEN 

SPACE 

Customized for you

Product Name: 

Second Hand Ladies Silk Dress

Advantage: 
1.Mix long and short style.
2.Colourful,light,fashion.


3.With soft cloth material,and wear-comfort.

Raw Material:
 

First-tier cities in china

Packaging:

1: 100kg/bale,80kg/bale,for West Africa and Asia countries 

2:  45kg/bale,55kg/bale for East/South/Middle Africa coutries

Shipment:

PIL/ MSK 21 days rent-free period

Payment:

TT / LC / PayPal 30% deposit, 70% before loading

Main Market:

Africa Asia Mideast

Keywords:

Second Hand Clothing Company in Germany

Ladies:

Party Dress, Jean/Cotton Pants, Worsted Coat Silk/Cotton Blouse Silk/Cotton/Jeans Skirt,Legging,S/L-Sleeved T-shirt, Brassiere, Silk Scarf, Jacket, Cardigan Sweater, Silk/Cotton Dress, Night Dress, Etc.

Men:

Short Pants,  Jacket,Short/Long-Sleeved T-shirt,Suit Pants, Jean/Cotton Pants, Suits Etc.

 Children:

Summer/Winter Wear , School Uniform , Pants Etc.

100%QC:

A Grade 98%

Time:

24/7* quick reply, fast delivery
✉Send us an inquiry, right now!