Used Men Suit Pants Bales Vintage Clothing For Sale From Brazil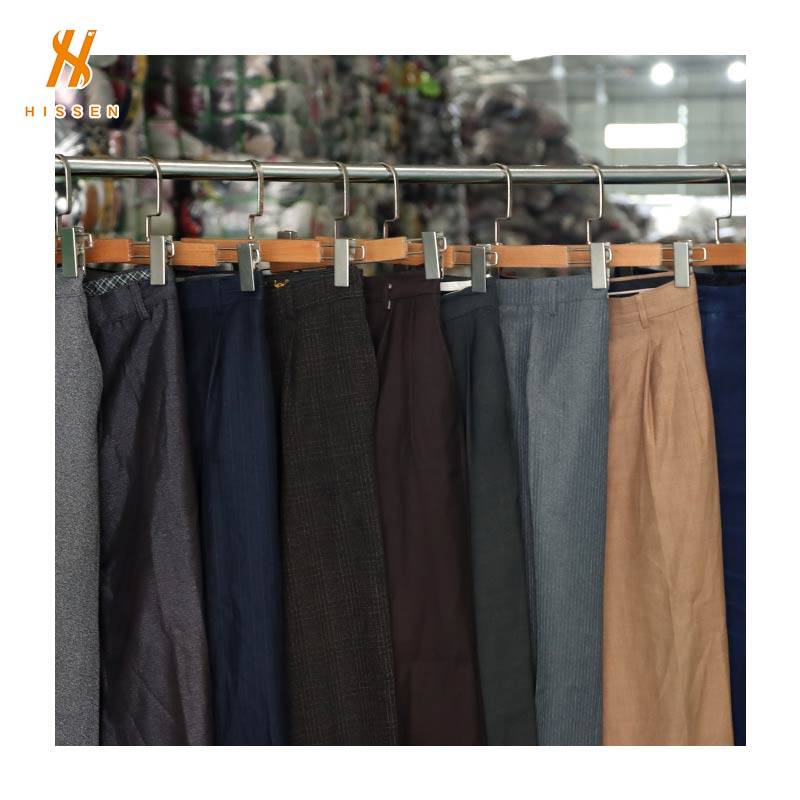 Bales Vintage Clothing For Sale.The team of our professionals and communicative salesmen in Hissen Global are professionally trained and familiar with the client market from Africa, South East Asia, Middle East and other countries.
1. You can choose according to your different needs, for the suit models straight classification with suits, pants and jackets 100%, pure cotton, blended spinning fabric is also available.
2. The quality of used men's tropical pants is passed BV quality certification standards.
3. Price: Our price will be based on your need so please feel free to contact us anytime!
4. There are many regions in Africa that have very high demand for these items.It would not be uncommon to find a business from Morocco needing used men's tropical pants too.
We're one of top wholesale clothing suppliers and used shoes suppliers.And we have our wholesale clothing websites like Alibaba,Facebook,Youtobe,etc.
Brand:
 

ZAGUMI

HISSEN 

SPACE 

Customized for you

Product Name: 

Used Men Suit Pants

Advantage: 

1.Colorful.

2.Fabri lightweight.

3.Fashion.

Raw Material:
 

First-tier cities in china

Packaging:

1: 100kg/bale,80kg/bale,for West Africa and Asia countries 

2:  45kg/bale,55kg/bale for East/South/Middle Africa coutries

Shipment:

PIL/ MSK 21 days rent-free period

Payment:

TT / LC / PayPal 30% deposit, 70% before loading

Main Market:

Africa Asia Mideast

Keywords:

Bales Vintage Clothing For Sale

Ladies:

Party Dress, Jean/Cotton Pants, Worsted Coat Silk/Cotton Blouse Silk/Cotton/Jeans Skirt,Legging,S/L-Sleeved T-shirt, Brassiere, Silk Scarf, Jacket, Cardigan Sweater, Silk/Cotton Dress, Night Dress, Etc.

Men:

Short Pants,  Jacket,Short/Long-Sleeved T-shirt,Suit Pants, Jean/Cotton Pants, Suits Etc.

 Children:

Summer/Winter Wear , School Uniform , Pants Etc.

100%QC:

A Grade 98%

Time:

24/7* quick reply, fast delivery
✉Send us an inquiry, right now!